FOR IMMEDIATE RELEASE
Long Time Masterpiece Tours' Andy Davidson joins
the Director's Choice Team
LUBBOCK, TX - July 9, 2018 - Andy Davidson, formerly of Masterpiece Tours, has joined the Director's Choice team. Davidson brings his experience as a former band director as well as 28 years of student travel planning domestically and internationally to the company.
The Director's Choice February 2018 acquisition of Masterpiece Tours opened the opportunity for Davidson to join Director's Choice as a full-time employee and member of the operations team. In his new role, Davidson will manage airline fare negotiation and ticketing, as well as assume a vital part of many operational aspects of Director's Choice.
While Davidson refers to this career move as his "retirement" gig, he is dedicated to working diligently on behalf of the Director's Choice clientele. "I'm excited to join Director's Choice in a behind the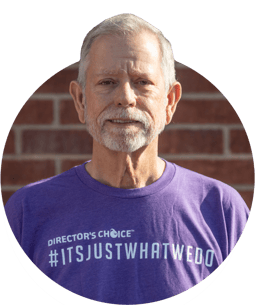 scenes capacity working with the operations team to offer my expertise in itinerary planning as needed," he said.
Further, Davidson's affiliations with SYTA (Student & Youth Travel Association) as past president and board member are in perfect alignment with the Director's Choice commitment to safe, ethical travel. Director's Choice has been a member of SYTA since its inception.
"Andy's joining our family is a great byproduct of our assuming the operations of Masterpiece Tours with the 2018-2019 school year. Excellent service, deep expertise, and dedication to educational travel for all clients and associates remain the core values of this new relationship," said Jon Locke, Owner and CEO Director's Choice.
Davidson will be part of the Director's Choice team at the Southwest Music Summer Exhibition in San Antonio on the convention floor in July. He will continue to work from his residence in the Dallas/Ft Worth area.

Director's Choice is the industry leader creating customized travel and events for performing arts student groups. Started by music educators more than 20 years ago, Director's Choice has grown from a Texas-based festival performance company to a full-service travel and event provider. The company is continually committed to promoting fine arts education and delivering safe, ethical travel and performance opportunities for student groups.
###