Disney is one of the most magical, memorable trips you can take and it's great for student groups! However, before you begin planning your itinerary, I want to share my best advice about how to do Disney right for you, your group, your schedule and your budget.
Should I stay on-property or off-property?
Two things will help us answer this question: the budget and mode of transportation.
On-Property
If you're flying to Orlando, your best bet will be to stay on-property at Disney to take advantage of Disney's Magical Express, which is the complimentary transportation to and from the Orlando International Airport. Note, however, that the Magical Express does NOT run from the Sanford International Airport.
If you stay on-property, and use the Magical Express, the only need for motor coach while in Orlando will be for any workshop or performance opportunities and/or transfers to off-property locations such as Universal Studios, the Orlando Eye, etc. Staying on Disney property is an excellent option for groups looking for convenience and ease.
Another perk to staying on-property is Extra Magic Hours. Select parks on select days will either open early or stay open late for those who are staying on Disney property. Your Magic Band, which serves as your room key throughout your stay, will also be your way to get on the rides during Extra Magic Hours. Don't leave your room without it! Lastly, transportation to and from Disney parks is complimentary from all Disney resorts.
Off-Property
If your group is taking motor coaches to Orlando, it may make sense for you to stay off-property. Since you're already paying for coaches for your entire trip, you can save money by staying at one of the many beautiful off-property hotels just minutes away from Disney. Of course, you can coach to Orlando and stay on-property, but with the rising cost of fuel, staying off-property when busing is a smart money-saving option.
What kind of park ticket do I purchase?
There are three types of tickets available to student youth groups: the Base Ticket, the Park Hopper, and the Premium Ticket. Most groups opt for the Park Hopper or Base Ticket.
Base Ticket
A Base ticket means that you can come and go from only one park as many times as you want during that day. For example, you scan your ticket at 9 AM to go to Epcot, but then at lunch, you decide that you want to head over to Disney Springs for a meal and shopping. This means you can only return to Epcot and couldn't go to Magic Kingdom since you already scanned your ticket at Epcot. A base ticket is easiest on the budget, and best if you need to have a closer tab on your students or have limited chaperones.
Park Hopper
The Park Hopper gives you more options and flexibility. It allows you to change your plan after lunch and head to Magic Kingdom, even though you visited Epcot that morning. The Park Hopper allows you access to all four main theme parks (Magic Kingdom, Animal Kingdom, Hollywood Studios, and Epcot) multiple times during the day. You can go whenever, wherever you want. If you can "hop" between parks at least twice during your stay, then it will probably be a benefit for you.
Remember those Extra Magic Hours I told you about earlier? A Park Hopper allows you to take advantage of this perk. For instance, if the Magic Kingdom has early entry at 8:00 a.m. for Disney Resort guests and you enter the park at 8:00 a.m. and then realize around lunchtime that the park is really crowded (which tends to be the case with Extra Magic Hours), a Park Hopper allows you to leave that park and go to a less crowded park.
Premium Ticket
Wanna make a splash? The Premium ticket option is a fantastic choice if you want to experience Disney's Typhoon Lagoon Water Park and Disney's Blizzard Beach Water Park. If you have the time and inclination, the Premium ticket allows your students to not only visit the four traditional Disney parks, but these two additional water parks are overflowing with thrill rides, wave pools, and snorkeling.
Now, which one is right for your group?
Only you can determine that, and in my 11 years with Director's Choice, I've seen them all. Buying a base ticket has often been referenced as an easy way to keep kiddos all in the same park. The Hopper will allow them to see more during their trip. There are labeled, easy-to-use coaches that run between the parks. If you are privileged to have a long stay, it's best to take advantage of the premium ticket.
Performance Options and Tickets
Speaking of tickets, let's talk briefly about the different performance options and how they relate to tickets. For performing student groups, consider the Disney Performing Arts On Stage ticket, the Disney Performing Arts Workshop ticket, the Festival Disney ticket, and the general Disney admission ticket. A Director's Choice travel consultant will be happy to talk with you more about ticket choices to help you choose the best option for your group.
Put simply, if you perform, your ticket is reduced in cost. Just remember, to Park-Hop, your ticket must be at least a 3-Day ticket purchase. Disney Performing Arts On Stage and Workshop both offer a 2-Day ticket, but it's a Base and only a Base. We have an entire staff of Disney aficionados who can walk you through the best options!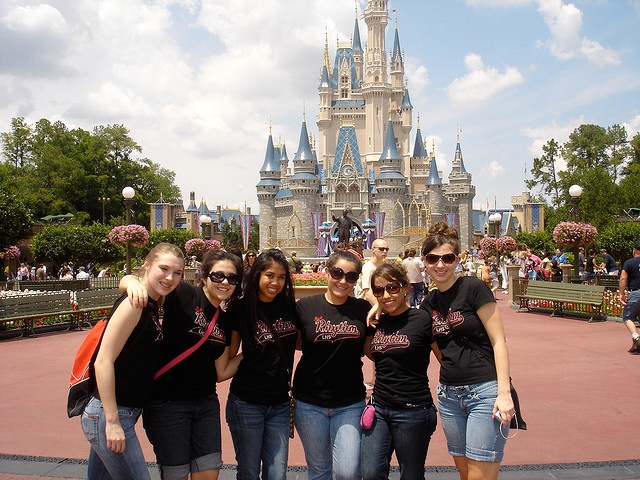 Meal Voucher vs. No Meal Voucher
Lastly, we have to talk about food. No trip is magical or genuinely memorable without it! If you stay on-property, you will need to purchase breakfast vouchers, which give your students variety and choice at the Resort food court. There is also at least one location in each park where the breakfast vouchers can be used. For example, if a group has an early workshop and the group would rather eat later, they can use the breakfast vouchers when they get to the park.
For lunch and dinner, Disney offers meal coupons. These are valid at many locations in each park as well as at Resort food courts, which is perfect for ride fanatics who may skip dinner in the park and want to eat back at the resort.
As a Tour Director, a few years ago, I compared buying with cash versus using a voucher. They weren't even close. The meal voucher gets you an entrée, drink, and dessert, and the portions are very generous. I highly recommend meal vouchers if you want all meals covered for your group. It eliminates the need for students to calculate and carry cash and ensure your kids stay properly fed.
To wrap up, a trip to Disney World is perfect for a student group. They'll make unforgettable memories, and Disney knows how to take care of people. It's an ever-changing destination that is easy to fall in love with!